Peaches, la pornocrate moderne

2006.




All star line up for Peaches album
The electro-clash star reveals all about her new record

Peaches has roped in a host of stars to feature on her forthcoming third studio album, due out next April.

Queens Of The Stone Age singer Josh Homme, ex-Hole drummer Sam Maloney and '80s songstress Joan Jett all put in an appearance on the follow up to 2003's Fatherfucker along with Canadian singer-songwriter Feist and Electrocute frontwoman Nicole Morier.

Peaches told Rolling Stone: "The track "Giver" features Josh (Homme) on guitar. There's a solo that I could play but I couldn't play it like Josh. He learned it in a second, and was playing all over it. It's exciting that I'm branching out. I just want to make things harder. I want to go more hardcore. I just want to make things harder. I want to go more hardcore."

The singer has been working with Beck producer Mickey Petralia in Los Angeles on the as-yet-untitled album.

Earlier sessions of the LP were recorded in her own Berlin studio with Eagles Of Death metal singer Jesse 'The Devil' Hughes.

Other songs set to feature on the record include "Hankie Code", "Stick It to the Pimp" and "Two Guys for Every Girl".

Of the latter track, she said: "The lyrics are all real dirty about guys getting down with each other, and then I join in. Everybody fantasises about the two-girl thing - to hell! Guys gotta get sexy with each other!"

Source: NME (2006)

2009.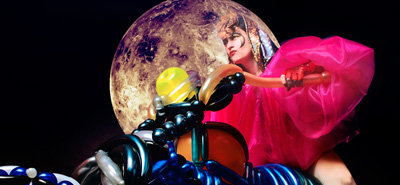 Peaches - I Feel Cream



Serpentine (I Don't Give A F*** Pt. II)
Talk To Me
Lose You
More
Billionaire
I Feel Cream
Trick Or Treat
Show Stopper
Mommy Complex
Mud
Relax
Take You Out

2011.
 
Cazwell & Peaches - Unzip Me



2012.

Gomma All Stars feat. Peaches - Casablanca Remixes

Free Pussy Riot

Présentation de son premier film (Peaches Does Herself) au Toronto International Film Festival

Burst!

2015.
Peaches sort un nouvel album, six après I Feel Cream. Extrêmement attendu, il s'intitule sobrement Rub et propose un retour vers un son plus minimaliste.
Close Up (feat. Kim Gordon)
Rub
Dick in the Air
Pickles
Sick in the Head
Free Drink Ticket
How You Like My Cut
Vaginoplasty (feat. Simonne Jones)
Light in Places
Dumb Fuck
I Mean Something (feat. Feist)